Satellite images reveal the extent of Australia's wildfires


Australia was hit by a catastrophic fire season with massive wildfires torching the country from September 2019 to February 2020. The devastating fires posed severe safety and environmental problems, killing at least 33 people and an estimated 1 billion animals, and destroyed thousands of buildings and millions of hectares of land. Besides damages on the ground, the wildfire emitted important quantity of particles in the atmosphere, which caused widespread air quality issues for extended periods. The smoke was so abundant that it reached unusual heights in the atmosphere and even traveled around the world.
The international science community used satellite data from polar orbiting and geostationary satellites to monitor the evolution of the fires on the ground (numbers and extent of fires) and the evolution of the pollutants in the air. Satellite images helped understand the scope of the disaster. The model analyses (see below), combining near-real-time satellite observations and modelization, are a valuable complementary tool to understand aerosol transport, as they estimate aerosol load and properties everywhere and every 3 hours.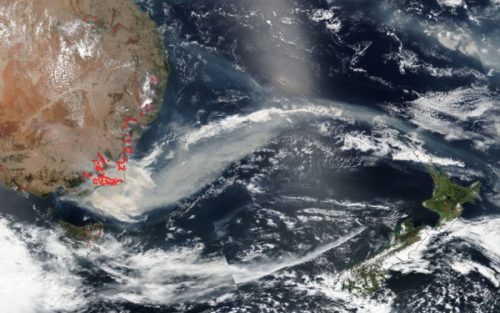 Des incendies ont fait rage en Australie entre septembre 2019 et février 2020. Particulièrement dévastateurs cette saison, ils ont posé des problèmes de sécurité et environnementaux considérables. Des milliers de bâtiments et des millions d'hectares ont été ravagés, causant la mort d'au moins 33 personnes et la disparition de près d'un milliard d'animaux. En plus des dommages sur le terrain, les incendies ont également rejeté dans l'atmosphère des quantités énormes de gaz et de particules, provoquant des problèmes de qualité de l'air sur de grandes étendues et de longues périodes. Les fumées ont été émises en de telles quantités qu'elles ont atteint des altitudes inhabituelles et ont même fait le tour du globe.
La communauté scientifique internationale a utilisé les observations des satellites en orbite polaire et géostationnaire pour surveiller l'évolution des incendies au sol (nombre et étendue des feux) et les particules dans l'atmosphère. L'imagerie satellitaire a permis de comprendre l'étendue du désastre. Les analyses des modèles (voir exemple ci-dessous), combinant les observations collectées en temps quasi-réel et la modélisation pour estimer la charge en aérosols et leurs propriétés toutes les 3 heures en tout point du globe, constituent un outil complémentaire de grande valeur pour suivre le transport des aérosols et leur évolution.