Von Karman vortices off the Canary Islands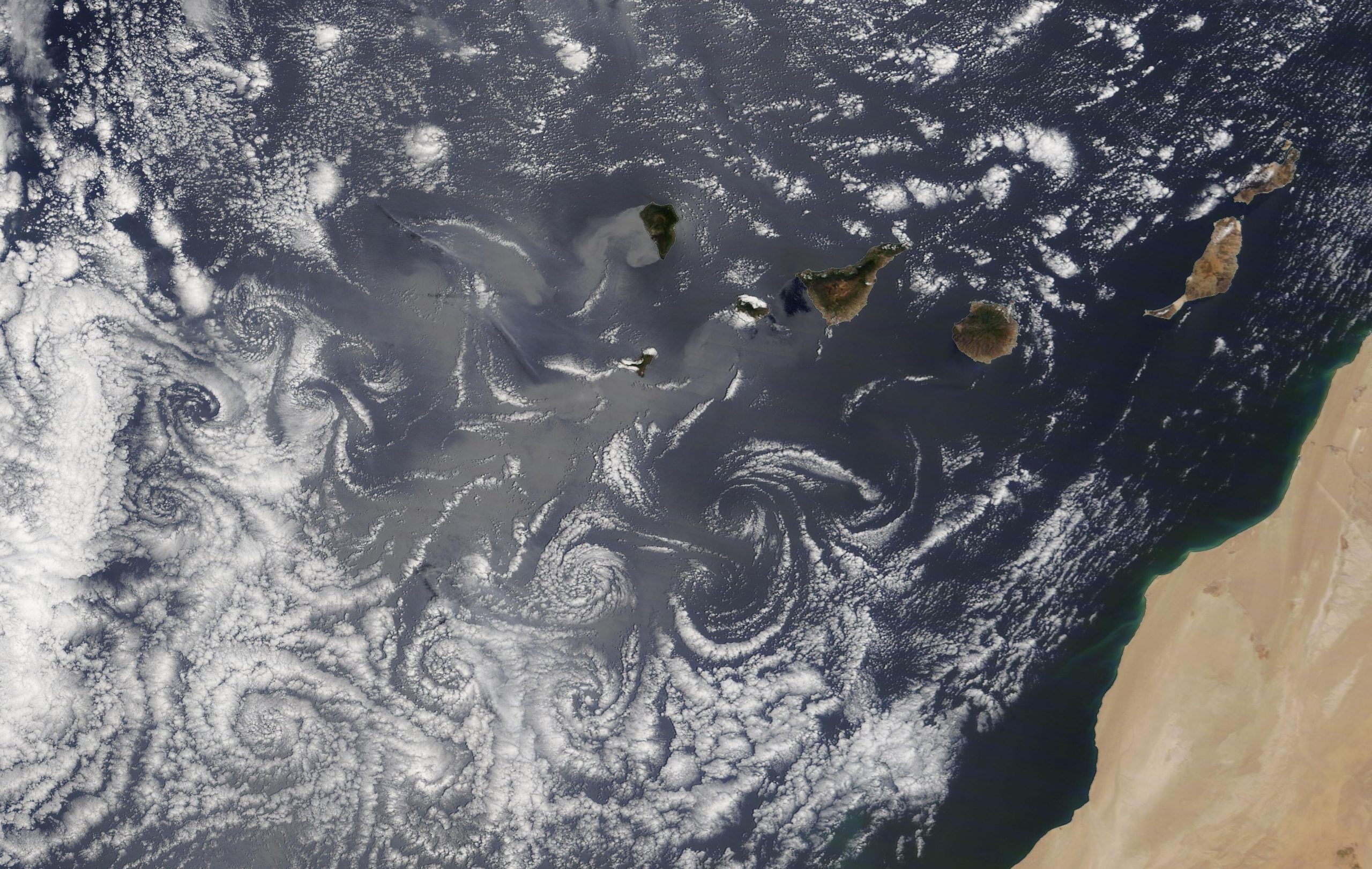 This remarkable phenomenon easily visible from satellite and called Von Karman vortices, occurs under particular conditions of wind and terrain relief. It is commonly observed downwind of the Canary Islands when sustained trade winds blow through the islands (from the northeast to the southwest). The island relief disrupts the air flow, deflecting it around on each side. As the air flow passes alongside the island, the innermost part of the disrupted flow (closest to the island), slowed down by the island, moves much more slowly than the outermost part of the flow. That creates a rotation movement toward the center of the wake of the island. That turbulent air flow creates vortices trapped within the wake, which form a vortex street as they are transported downwind. When a stratocumulus layer (low-level clouds) is present in the disrupted flow, the clouds reveal the eddies that are clearly visible on satellite images. A similar phenomenon can be observed in rivers where eddies can form downstream of big rocks.
The Von Karman vortices formed directly downwind of the Canary Islands are most visible during the early morning when the cloud cover is maximum. The spectacular features remain clearly visible as the cloudy airmass is slowly transported towards the southwestern end of the visible area.
Satellite observations provide numerous examples of such Von Karman vortices worldwide as can be seen from the following video: https://youtu.be/SawKLWT1bDA
If you're interested in learning more about atmospheric Von Karman vortices formation read more at:
https://earthobservatory.nasa.gov/images/146971/cloudy-curls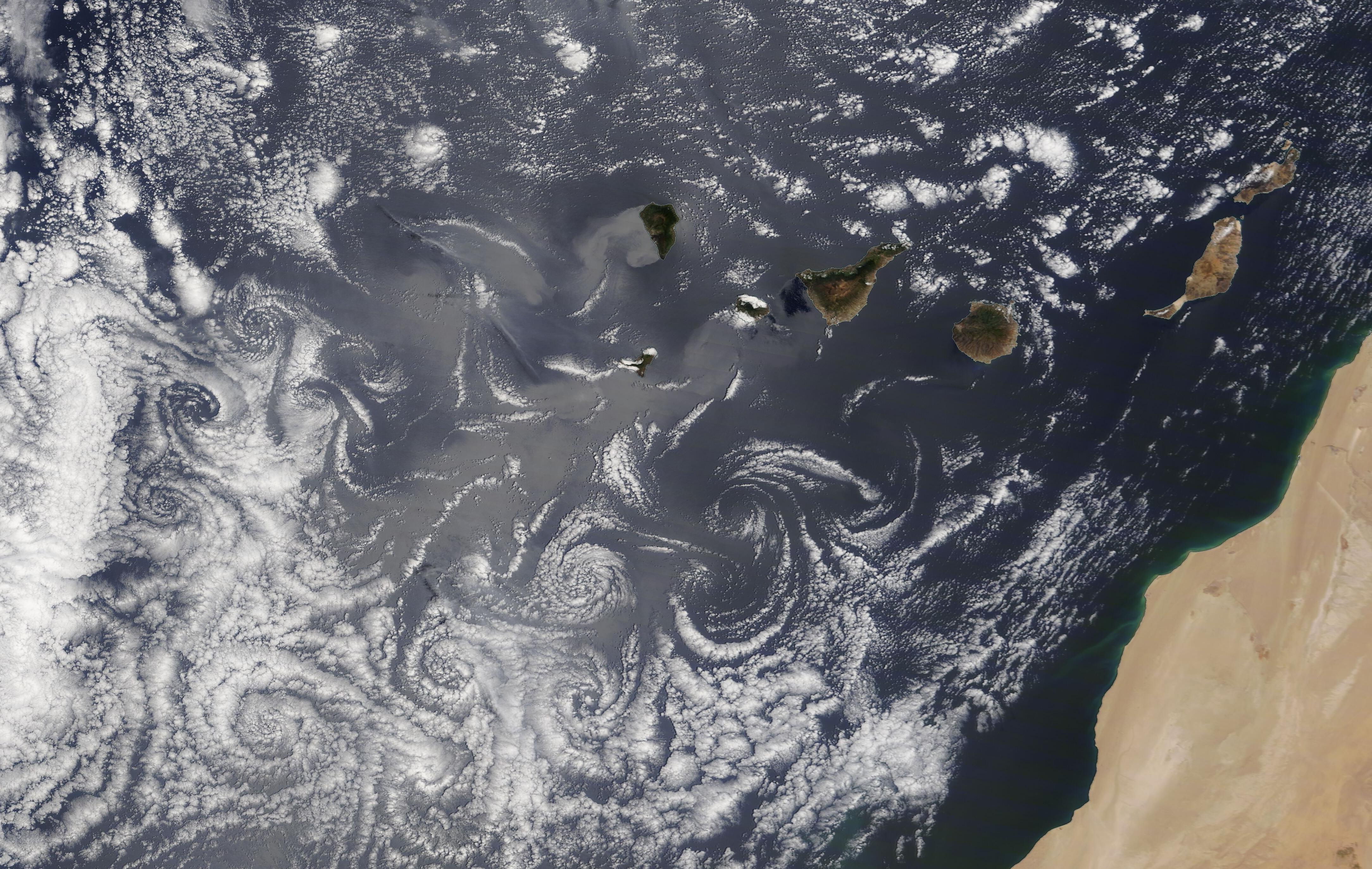 Ce phénomène remarquable bien visible depuis satellite porte le nom de vortex de Von Karman et se produit dans des conditions particulières de vent et de relief. Il est fréquemment observé sous le vent des îles Canaries soumis à de forts alizés (du nord-est au sud-ouest). Le relief de ces îles perturbe le flux d'air auquel elles sont soumises. Lorsque le flux d'air contourne l'île, il s'écoule beaucoup plus lentement sur son côté intérieur (c'est-à-dire du côté de l'île) qu'à l'extérieur. Cela crée un mouvement de rotation qui ramène le flux vers le centre du sillage de l'île. Ce flux d'air turbulent crée des tourbillons qui sont emportés par le vent en restant piégés dans le sillage. Lorsqu'une couche de stratocumulus (nuages de basse altitude) est présente dans l'écoulement perturbé, les nuages révèlent les tourbillons, bien visibles sur les images satellites. Un phénomène similaire peut être observé dans les rivières où des tourbillons peuvent se former à l'arrière de gros rochers qui font obstacle au courant.
Les tourbillons de Von Karman formés directement sous le vent des îles Canaries sont plus visibles tôt le matin lorsque la couverture nuageuse est maximale. Les caractéristiques spectaculaires restent clairement visibles alors que la masse d'air nuageuse est lentement transportée vers l'extrémité sud-ouest de la zone visible.
Les observations satellitaires fournissent de nombreux exemples de tels tourbillons de Von Karman dans le monde entier, comme le montre la vidéo suivante : tps://youtu.be/SawKLWT1bDA
Si vous souhaitez en savoir plus sur les tourbillons atmosphériques de Von Karman, lisez-en davantage sur : https://earthobservatory.nasa.gov/images/146971/cloudy-curls