Eruption of Cumbre Vieja in the Canary Islands September 2021


Cumbre Vieja, an active volcano on the Spanish island of La Palma in the Canaries, began erupting on September 19, 2021. It had been dormant for 50 years, a short interval in geological time. The eruption spewed ash and volcanic gas in the lower atmosphere (several hundred of meters) while lava flows started crawling down the western flank. Thousands of people evacuated as lava continued cutting through inhabited and agricultural areas, destroying homes, roads and farmland in its path. Ash fallouts and sulfur dioxide emissions are additional threats that can pose health risks.
Other cause for concern was the encounter between the lava flow and the ocean because the huge temperature difference (above 1000°C versus 20°C) can produce toxic gases. The hot lava flows reached the ocean water on September 28, 2021 at night and kept flowing throughout midday the next day, leaving a large lava tongue in the ocean. Fortunately, the wind pushed the toxic gases offshore.
In mid-October, the eruption continues with low to moderate explosivity and with ash plumes sometimes reaching 2 to 3 kilometers in altitude. The last image below, acquired on October 15, 2021 shows several new lava flows creeping toward the ocean as the Cumbre Vieja eruption continues. So far, the eruption has not been powerful enough to inject large amounts of ash and volcanic gases into the stratosphere that could have a significant impact on weather and climate.
True-color images acquired by MODIS on board NASA's Terra and Aqua satellites from September 20, 2021 to October 18, 2021, at different stages of the eruption in cloud-free conditions. These images show volcanic ash spewed by the volcano and transported hundreds of kilometers around the island.
The MSI true-color image of September 10, 2021 shows a cloud-free view of La Palma island showing green vegetated areas and old lava flows (grey-brown). Alongside this image is a synthetic-aperture radar (SAR) image acquired by the C-SAR instrument on board ESA/Copernicus's Sentinel-1 satellite showing volcanic topography: the large caldera in the northern part and the volcanic ridge heading south sprinkled with cinder cones and craters (easily visible when zooming the image).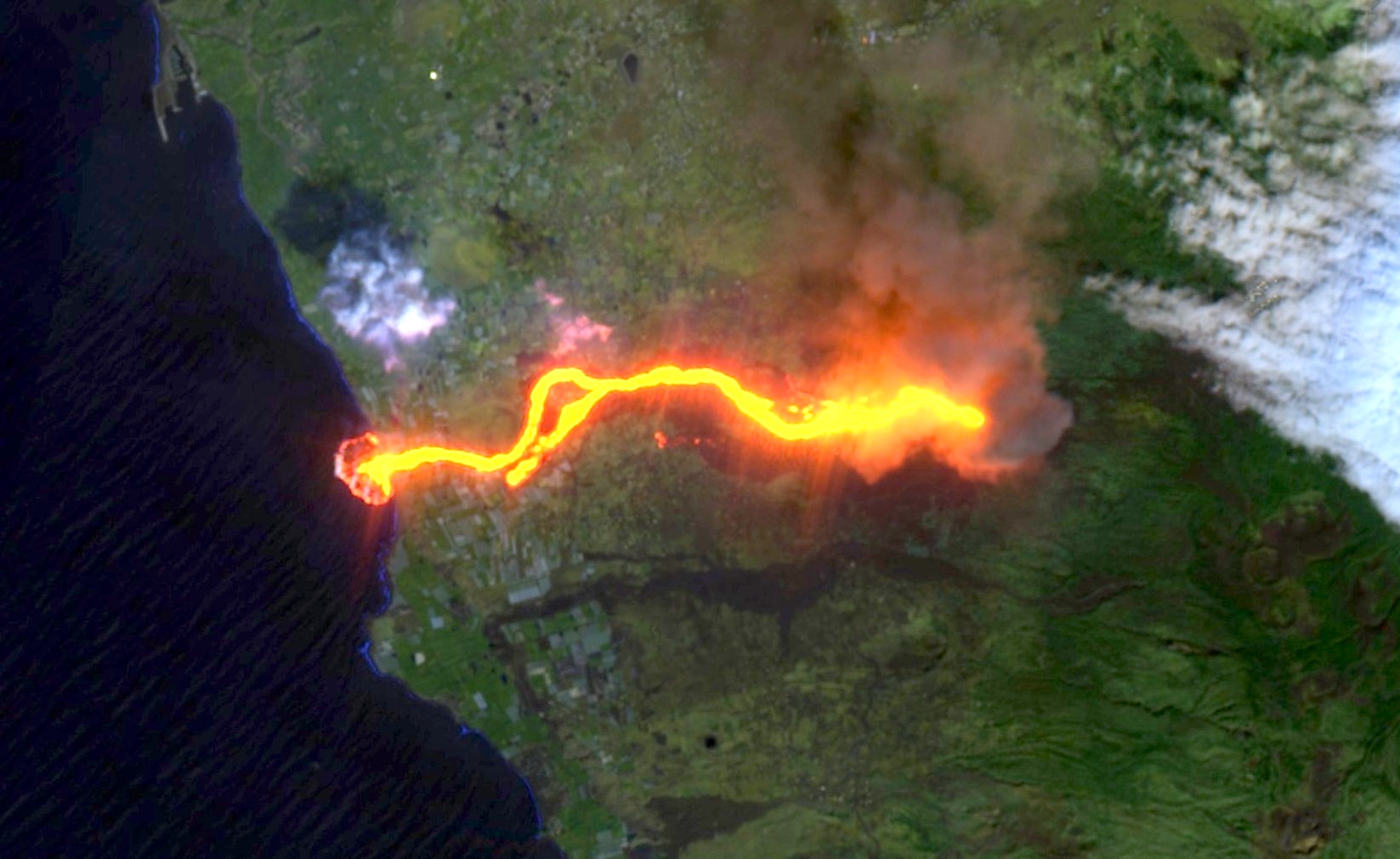 Le Cumbre Vieja, volcan actif situé sur l'île espagnole de La Palma (archipel des Canaries), est entré en éruption le 19 septembre 2021 après 50 ans d'inactivité, un temps très court à l'échelle géologique. L'éruption a rejeté des cendres et des gaz à plusieurs centaines de mètres d'altitude, tandis qu'une coulée de lave a commencé à descendre lentement le flanc ouest. Des milliers de personnes ont dû évacuer les lieux pour fuir la lave qui détruit les habitations et ensevelit les routes et les terres cultivées sur son passage. Les retombées de cendres et les émanations de dioxyde de soufre quant à elles représentent des risques pour la santé. Une autre source d'inquiétude est l'arrivée de la lave dans l'océan qui, à cause de la grande différence de température (plus de 1000° et 20°), est susceptible de produire des émanations toxiques. La lave a atteint l'océan le 28 septembre 2021 au soir et à continué à s'y déverser jusqu'au lendemain midi, laissant une large langue de lave dans l'océan. Par chance, les vents ont poussé les émanations de gaz vers le large, épargnant ainsi la population de l'île.
A la mi-octobre, des éruptions faibles à modérées se poursuivent, envoyant des cendres parfois à 2-3 kilomètres d'altitude. La dernière image ci-dessous, acquise le 15 octobre 2021, montre que plusieurs nouvelles coulées de lave se sont formées suite aux éruptions qui continuent à avoir lieu. A ce jour, ces éruptions n'ont pas été suffisamment intenses pour injecter d'importantes quantités de cendres et de gaz dans la stratosphère, et n'impacteront donc ni le temps ni le climat.
Images en vraies couleurs acquises par MODIS à bord des satellites Terra et Aqua de la NASA du 20 septembre au 10 octobre 2021, à différentes phases de l'éruption. Ces images montrent les cendres volcaniques éjectées par le volcan et transportées sur des centaines de kilomètres autour de l'île.
L'image MSI en vraies couleur du 10 septembre 2021 par ciel clair, montre les zones de végétation et les anciennes coulées de lave sur l'île de La Palma. Juste à côté, l'image SAR acquise par l'instrument C-SAR à bord du satellite Sentinel-1 (ESA/Copernicus) met en évidence le relief et la nature volcanique de l'île : l'énorme caldera au nord ainsi que la crête de cratères en direction du sud (nettement visibles en zoomant l'image).