Giant wildfire in Northern California blazed uncontrollably for 2 months July-September 2021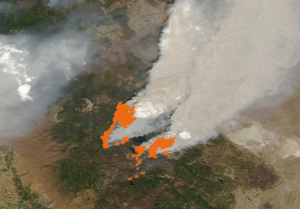 The 2021 wildfire season in the Unites States was predicted to be yet another severe one. Sadly, the prediction was right. Last year's season was unprecedented but this year was worse due to widespread dry conditions in the western United States and record heat in June that jumpstarted the fire season one month ahead of schedule.
Throughout September, high temperature, strong winds and drought in northern California continued to sustain and spread the "Dixie" fire, named after the road where it started on July 13, 2021. Two months later, on September 13, 2021 it had scorched more than 927,000 acres (375,000 ha), of which 25% was still blazing uncontrollably. As of October 3, 2021, 12% of the fire is still active with 965,000 acres burnt, and the fire is not expected to be contained until October 30, 2021.
That giant fire is the largest wildfire in California in 2021 and the second largest fire on record in California, just behind the Complex fire, which burned more than 1 million acres (405,000 ha) in August 2020.
Hereafter, images from polar orbiting satellites show how the fire spread over time and the extent of the gigantic burn scars it left behind.
Source: NASA/Worldview
Move the blue slider to reveal true-color/false-color imagery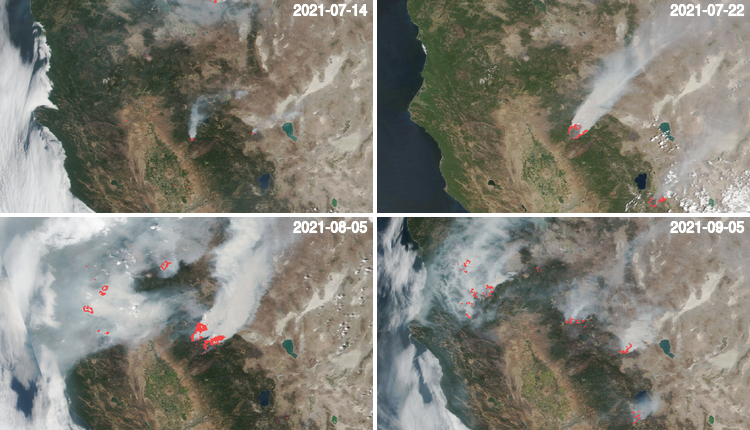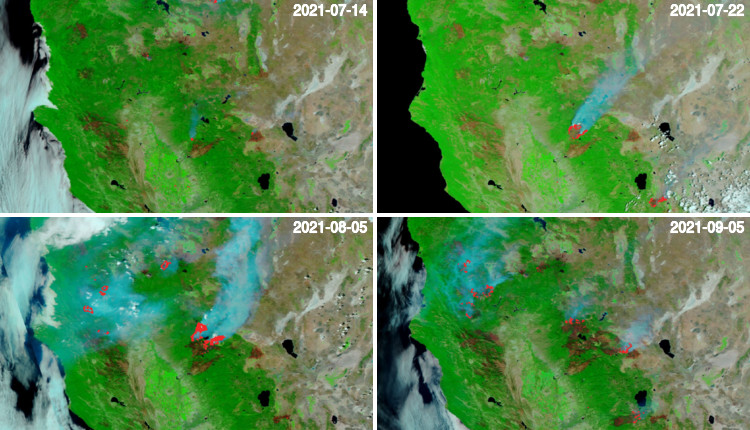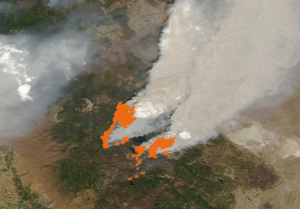 La saison des feux 2021 aux Etats-Unis s'annonçait à nouveau comme redoutable, et malheureusement les prévisions se sont révélées justes. La saison 2020 fut sans précédent, mais cette année a été pire, principalement à cause des conditions de sécheresse intense à l'ouest des Etats-Unis et des records de chaleur en juin qui ont lancé la saison des feux un mois à l'avance.
Durant tout le mois de septembre, des températures élevées, de forts vents et la sécheresse dans le nord de la Californie ont entretenu l'incendie "Dixie" et lui ont permis de se propager. "Dixie" provient du nom de la route où le feu s'est déclaré le 13 juillet 2021. Deux mois plus tard, le 13 septembre 2021, l'incendie avait brûlé plus de 375.000 ha, dont 25% continuait de brûler de manière incontrôlable. Le 3 octobre 2021, 12% du feu est toujours actif avec 390.000 ha brûlés. L'incendie devrait être circonscrit le 30 octobre 2021.
Cet incendie gigantesque est le plus grand feu de Californie en 2021 et le 2e plus destructeur historiquement, juste derrière le feu "Complex" qui a détruit plus de 405.000 ha en août 2020.
Les images de satellites à orbite polaire ci-dessous montrent comment le feu s'est propagé au fil des semaines ainsi que l'étendue des surfaces brûlées.
Source: NASA/Worldview
Déplacer le curseur bleu pour révéler l'imagerie vraie/fausse couleur