Saharan dust gushes over Europe March 15, 2022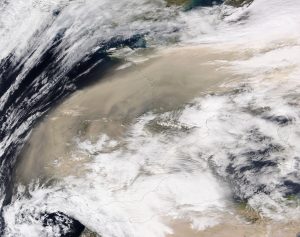 An exceptional amount of dust particles lifted by strong winds in the Sahara desert in Algeria traveled north across the Mediterranean Sea and reached Western Europe from March 15 through 18, 2022. Spain and France received especially high concentrations of dust, which brought brown-orange skies and strongly degraded air quality. The plume continued to travel further north and east, depositing dust along the path, and reached England, Denmark, and Finland later in the week.
Dust episodes are commonly seen in the Mediterranean regions but such high concentrations and transport that far north are unusual. The scope of this event is similar as last year's (see article from Feb. 2021) but the duration of this year's event (4 days) is especially noteworthy.

This intense episode perfectly exemplifies the typical meteorological conditions required to lift large amount of Saharan dust and transport them North across the Mediterranean Sea towards western Europe. As shown in the wind chart animation below, a low-pressure system over the Atlantic Ocean off the coast of Morocco is blocked by a high-pressure system over the Central Mediterranean Sea. The high-pressure system induces air circulation moving clockwise, while the low-pressure system induces air circulation in the opposite direction. In this situation, a strong and persistent wind from the south, called Sirocco, forms over the Sahara desert, lifts and injects dust high in the atmosphere and blows dust plumes towards Europe. In this case, the winds are sufficiently strong and persistent in the upper atmosphere, carrying dust as far north as the UK and Northern Europe in the following days.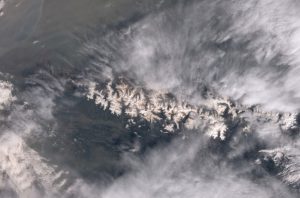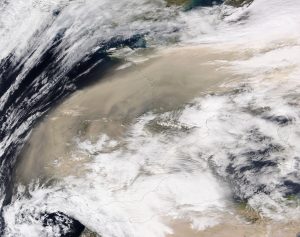 Une quantité exceptionnelle de poussières a été soulevée par des vents violents dans le Sahara algérien, puis transportée vers le nord sur la mer Méditerranée, et a déferlé sur l'Europe occidentale du 15 au 18 mars 2022. L'Espagne et la France ont reçu des quantités de poussières particulièrement importantes, qui ont donné au ciel une intense coloration brun-orangé et ont dégradé fortement la qualité de l'air. Le panache a poursuivi son déplacement vers le nord et l'est, déposant de la poussière en chemin. Il a atteint l'Angleterre, le Danemark et la Finlande plus tard dans la semaine.
Des épisodes de poussières sont couramment observés dans les régions méditerranéennes, mais de telles concentrations transportées si loin vers les hautes latitudes sont inhabituelles. Cet événement est comparable à celui survenu l'an dernier à la même époque (voir l'article de février 2021) mais sa durée est sensiblement plus longue (4 jours).

Cet intense épisode illustre parfaitement les conditions météorologiques typiques requises pour soulever une grande quantité de poussières sahariennes et les transporter vers le nord à travers la mer Méditerranée vers l'Europe occidentale. Comme le montre l'animation de la carte des vents ci-dessous, un système dépressionnaire au large des côtes du Maroc est au contact d'un système anticyclonique situé sur la mer Méditerranée. Le système anticyclonique génère des vents circulant dans le sens des aiguilles d'une montre, tandis que le système dépressionnaire génère des vents circulant dans l'autre sens. Avec cette situation, un vent fort et persistant du sud, appelé Sirocco, se lève dans le désert saharien. Il soulève et injecte des poussières dans la haute atmosphère et envoie des panaches de poussières vers l'Europe. Dans ce cas précis, les vents sont suffisamment forts et persistants en altitude pour transporter du sable jusqu'au Royaume-Uni et l'Europe du Nord dans les jours suivants.